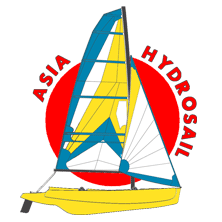 Asia Hydrosail is the official WindRider Trimaran distributor for South-East Asia. Our main company is based in Thailand but we can ship products to customers all over Asia.
Below you will find detailed information about the models of WindRider. Please do not hesitate to contact us if you require any additional information.

Choose a language:

ภาษาไทย

Nederlands

Deutsch
Corporate Solutions
( resorts / water-sports companies )
WindRider Tango WindRider 17 Trimaran
WindRider AS Used WindRiders
No longer does sailing demand most of your time, half your money and all of your upper body strength. From its head-turning design to its hands-free controls, WindRider has made sailing simple, affordable and attainable to anyone who wants to ride the wind.
Look at the wide beam and sealed outriggers. Shy of using plastic explosives or a hurricane, you're not going to capsize or sink this boat. That's comforting knowledge for novices who want to develop skills, and for experts who want to test theirs. Slender hulls slice through the water and reduce hobby-horsing in the chop. Note, too, that the boom height allows for safe, effortless jibes. The rugged polyethylene construction stands up to encounters with coral, docks, pilings and buoys that would shatter fiberglass. If there's a safer sailboat, it's one that never leaves the showroom.
The boats trailer easily, and the smaller models can be car-topped. All of which means you can sail on an impulse - after work, after dinner, whenever you get the urge because there are none of the hassles associated with bigger boats or complicated catamarans. What's more, maintenance amounts to an occasional blast from a garden hose.
Beneath the calming, reassuring design beats the heart of a sprinter. It doesn't take much air to drive the hulls, and moderate to stiff breezes can produce exhilarating speeds.
For adaptive sailing and great for people with disabilities, comes the WindRider AS, with foot steering and hand steering in both cockpits, as well as the option to upgrade it to the fully race-ready international WindRider AS1 one-person class or the WindRider AS2 two-person class.
You can learn more about the different models by choosing from the menu above. Each page contains general information as well as pictures, movies, technical information and a complete list of each boat's options.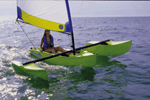 WindRider Tango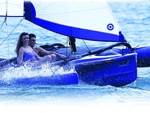 WindRider 17 Trimaran

WindRider AS1

(C) 2022, All rights reserved. Asia Hydrosail (Sarapan co., ltd.) 23/116, moo4, Bophut, Koh Samui, 84320 Surat Thani., Thailand. Tel. +66 84848 3538